Bill Holston – Executive Director
An Alabama native, Bill began practicing business law with Sullivan and Holston law firm. Also an avid human rights advocate, Bill joined HRI's team as a pro bono volunteer attorney, where he litigated multiple asylum trials in immigration court. In 2005 Bill was awarded the Angel of Freedom Award by the Human Rights Initiative of North Texas. Bill's favorite hobbies are hiking, especially in Big Bend National Park, and reading. His most influential book is Dietrich Bonhoeffer's 'Cost of Discipleship', while his overall favorite is 'Brothers Karamazov'.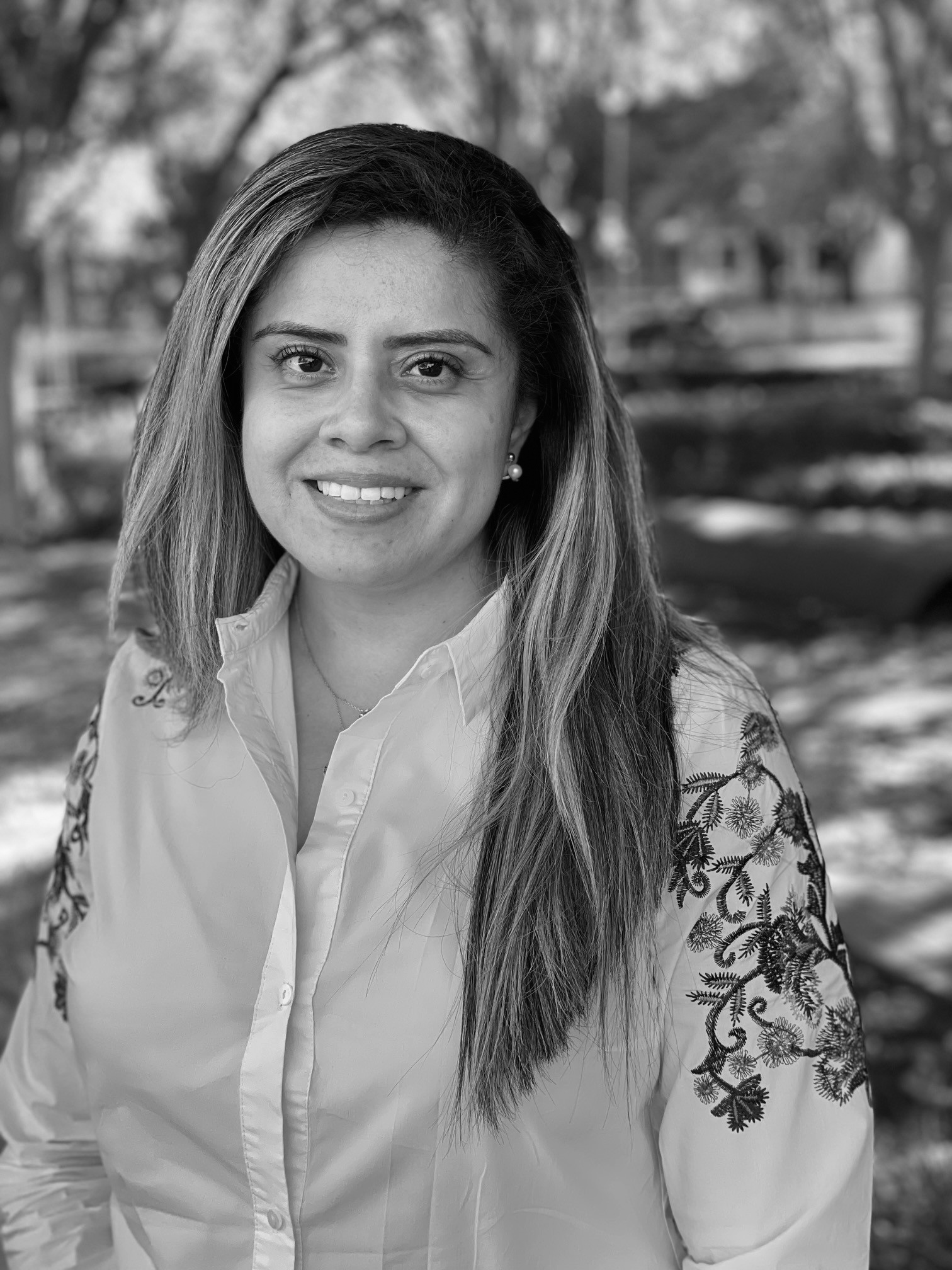 Margarita Alarcón - Spanish Language Fellow
Born and raised in Quito, Ecuador, Margarita earned her law degree from Universidad de las Americas. She recently relocated to Texas with her family and brought with her a strong desire to help immigrant communities and empower them to reach their full potential. Prior to HRI, Margarita practiced intellectual
Property Law in Quito, Ecuador and provided pro bono assistance to vulnerable local communities.
Outside of HRI she enjoys spending time with her family, reading, traveling and writing. She is an avid arts and crafts enthusiast.
Maryam Baig – Marketing & Special Events Director
Born and raised in Pakistan, Baig received a Bachelor of Arts in English Literature and Political Science from the University of Punjab, and a Bachelor of Arts in Art & Performance/Master of Fine Arts in Art & Technology at UT Dallas. Alongside HRI, Baig continues to follow her passion for storytelling as an author, playwright and actor, serves on artistic advisory board for Prism Movement Theatre, and teaches theatre at UT Dallas.
Veronica Gonzalez – Children's Program Case Manager
Veronica is a Dallas native. She earned her bachelor's in Social Work and minor in Spanish from Texas State University. From a young age, she knew that her heart belonged to helping others, leading her to dedicate her career to the social services sector. In her free time, Veronica enjoys spending time with friends and family, chasing her dogs, cooking, and watching reality tv.
Zeyla Gonzalez – DOJ Accredited Representative
Zeyla, a Texas native, is a graduate of the University of North Texas in Denton where she studied International Studies and Spanish. Before joining the team in 2013, Zeyla was a committed HRI volunteer and translator. When she's not assisting HRI's lawyers and clients, Zeyla can be found immersed in the arts–having trained in ballet and modern dance for 15 years.
Sierra Houck – Social Services Director
Sierra is a North Carolina native, and earned her Bachelor of Arts in Global Studies and Geography, with a focus in Latin America, at the University of North Carolina. Before joining HRI, Sierra worked at a refugee center in Mexico City, where she worked with asylum seekers and refugees, mostly from Central America. When she isn't working, she spends her time hiking, running, cooking, reading, and traveling.
Tom Martin – Development Director
Tom earned a Bachelor of Business Administration at Eastern New Mexico University, a Master of Divinity at Southwestern Baptist Theological Seminary, and a Doctor of Ministry from New Orleans Baptist Theological Seminary. Tom has served in high-level leadership in university and non-profit settings; as pastor of churches; and in various development roles. He also served as Director of Client Relations; Vice President of a mental and behavioral health care organization; Major Gift Officer of a world-class global philanthropic organization; and Executive Director of Development and the Foundation at an award-winning regional community medical center. Through the years, Tom has felt a constant tug away from easy answers and into the hard questions of life. And there, he has found the most delightful people, the most critical life issues, and a most compelling place to dwell.
Naschaly González Montalvo – Case Management Coordinator & Legal Assistant
Born and raised in Puerto Rico, Naschaly attended the University of Puerto Rico at Carolina where she obtained her bachelor's degree in Forensic Psychology. In 2019, Naschaly moved to Texas to obtain her Master of Science in Criminology at the University of Texas at Dallas. She's passionate about advocating for women's rights and the rights of those who have been wrongfully convicted. Outside of HRI, Naschaly is passionate about animal rescue, and enjoys weightlifting and any activity that requires being physically active.
Kristina Morales – DOJ Accredited Representative
Kristina is Dallas, Texas born and raised. She graduated from the University of North Texas where she received her Bachelor of Arts in General Studies in 2007 and Master of Arts in Interdisciplinary Studies with an emphasis in Women's Studies in 2010. Kristina has always known that her heart is in non-profit work, and has served HRI clients since the fall of 2012. Kristina loves taking long walks with her dog, Lulu, and enjoys going to rallies and events that promote social justice.
Carolina Pina – Case Management Coordinator & Legal Assistant
Carolina, a Texas native, earned her bachelor's in Political Science and International Studies from Texas A&M Commerce. She knew that she wanted to work with immigrants because her family are also immigrants. Working for a nonprofit like HRI gives her the chance to give back and fulfill her dream of helping children. When she's not helping the cause, you can find her traveling and going to the beach.
Antonio Reyes – G. Rollie White Trust Asylum Program Attorney
Antonio is a Texas native and attended the University of Texas at Arlington earning his bachelor's in Criminology and Criminal Justice. He then worked in Dallas County, which pushed him towards law in order to help people. He attended and graduated from the University of Massachusetts School of Law. When not working, he likes to spend time with his dog and friends, enjoying some live music, or just exploring the city.
Cory Sagduyu – G. Rollie White Trust Supervising Attorney
Cory earned her Bachelor of Arts from the University of Texas at Dallas and her law degree from the University of Virginia School of Law. Prior to working at HRI, Cory worked at Ayuda as a Skadden Legal Fellow, representing survivors of human trafficking and various other crimes. Outside of HRI, Cory enjoys hiking, biking, running, and traveling.
Liz Ternes - Associate Development Director
Liz was raised in Oklahoma City where they grew up on a steady diet of Woody Guthrie and red dirt. They received their undergraduate degree in Political Science from Hollins University and their Master's in Theological Studies from Phillips Theological Seminary. Before joining HRI, Liz worked to support refugees, people facing food insecurity, and the LGBTQAI2S+ community. Outside of the office, Liz likes to hit the trail for a hike whenever possible, never saying no to a good road trip.
Jessica Thackway – Staff Attorney
Jessica moved to the Dallas area in 2021. She obtained her law degree from the Dwayne O. Andreas School of Law in Florida. Jessica brings with her a diverse legal background, having worked to support immigrants in the non-profit, private practice, and corporate sectors. Her passion lies in assisting vulnerable populations. When she is not working, she enjoys spending time with her family, biking, paddle boarding, traveling and if there is any time leftover- enjoying a good book.
Brenda Todwong – Advocacy Organizer
Brenda was born and raised in Uganda and received a diploma in travel management from Panworld Institute in Kampala. Throughout her career she worked in customer service in the airline industry before joining the United Nations Department of peace keeping operations. In 2018, Brenda moved to Texas. She is a board member of DASH. She has a passion for advocacy and a heart for helping the disadvantaged and marginalized. She enjoys art, dancing, jewelry making, walking, and spending time with her daughter.